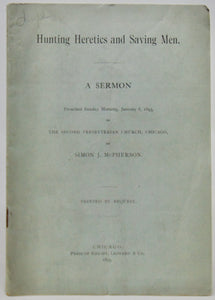 McPherson, Simon J. Hunting Heretics and Saving Men: A Sermon Preached Sunday Morning, January 8, 1893, in The Second Presbyterian Church, Chicago. Chicago: Press of Knight, Leonard & Co., 1893. First Edition. [9322]
Blue printed wrapper, 7 3/4 x 5 1/2 inches, center crease, light soil to wrapper, 18 pp., page corner tips bumped. Good. Pamphlet.

The author treats with the controversies of the Revised Standard Version of the Bible and the heresy trials of Dr. Henry P. Smith and Dr. Charles Briggs. He identifies as a conservative, and believes that the gentlemen are incorrect in some aspects of their beliefs, yet also believes that they are not guilty of heresies.