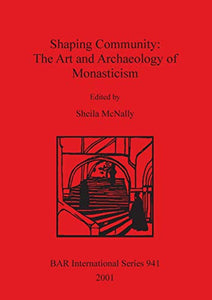 McNally, Sheila. Shaping Community: The Art and Archaeology of Monasticism (BAR International Series 941). Oxford: British Archaeological Reports, 2001. 1st . ISBN: 1841712337.
Oversized paperback, 11 3/4 x 8 3/4 inches, owner's purchase record on ffep, 189 clean pp., illustrated. . Very good. Paperback.  [602] 
17 papers from a symposium held at the Frederick R Weisman Museum at the University of Minnesota in 2000 which accompanied an exhibition of monastic artifacts and manuscripts.

Subjects include: the use of space in monasteries, ascetic practice in Egypt, monasteries and urban development in early medieval Ireland, the Makkurian monasteries of Nubia, Bordesley Abbey, Cluny, women, Athonite monasteries and Benedictine architecture.