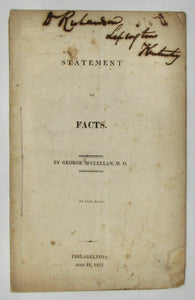 McClellan, George. A Statement of Facts. Philadelphia: Self published, 1822. First Edition. [1205]
Pamphlet, no wrapper, 5 1/4 x 8 1/4 inches, 24 pp., center crease. "Dr. Richardson, Lexington, Kentucky" inscribed on the front. Good. Pamphlet.

"Regarding the controversy caused by the author's review of Dr. Gibson's Reflections on the treatment of fractures of the thigh." - Worldcat.

In this pamphlet Dr. McClellan defends himself against "angry circulars, and contradictory handbills...which...have been made the instruments of attack upon my reputation." He describes a belligerent confrontation by two men - Mr. Wright and Mr. Gwinn - which took place within the walls of his own home, which engendered a challenge by duel, which he declined.

"Indignant at such a wanton attempt to make mischief, at the ungentlemanly disregard which he had shown to the peace and tranquillity of my family, and at the indescribably odious manner in which he announced his alternative, I struck him as if he had been a blackguard and a ruffian, and the conflict which ensued was terminated by one of my students, who ran out of the adjoining office, and interfered to restore peace."

George McClellan (1796-1847); b. Woodstock, CT, d. Philadelphia, PA. A surgeon, Dr. McClellan was the founder of Jefferson Medical College and the Medical Department of Pennsylvania College. His pioneering work in surgery included the authorship of a widely used textbook. His skills were highly sought after, attracting patients from around the world.