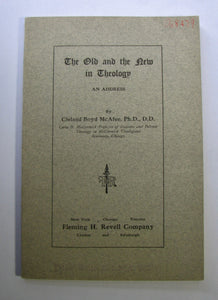 McAfee, Cleland Boyd. The Old and the New in Theology: An Address. New York &c.: Fleming H. Revell, (1913). First Edition. [6119]
Gray printed card wrappers, 4 7/8 x 7 1/4 inches, faint historical society name stamp on front, red ink call number on front, 40 clean pp. Very good.

The author was the Cyrus H. McCormick Professor of Didactic and Polemic Theology in the McCormick Theological Seminary, Chicago.

"Any of these four relations to truth may take to the old - it may be new and contradictory; in its presence the old is shown not to have been true after all. It may be new and corrective; in its presence doubtful elements of the old are set aside. It may be new and confirmative; it its presence the old becomes only more glorious. It may be new and contributory; in its presence the old is enriched and enlarged." p. 34.