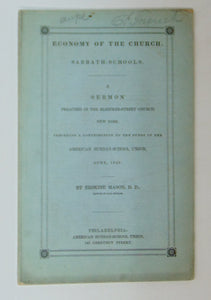 Mason, Erskine. Economy of the Church: Sabbath-Schools; A Sermon preached in the Bleeker-Street Church, New-York, preceding a Contribution to the Funds of the American Sunday-School Union, June, 1845. Philadelphia: American Sunday-School Union, 1845. [7612]
Blue printed wrappers, 5 1/2 x 8 3/4 inches, 16 clean pp., adverts for ASSU publications on the end papers. Very good. Pamphlet.

An appeal for the Christian education of youth, with emphasis on the importance of the same for the future of the Church.

Rev. Erskine Mason (1805-1851), graduated at Dickinson College in 1823 and was pastor of the Bleecker Street Presbyterian Church in Schenectady, NY, from 1830 to his death.