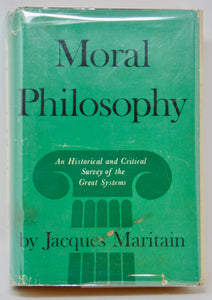 Maritain, Jacques. Moral Philosophy: An Historical and Critical Survey of the Great Systems. New York: Charles Scribner's Sons, 1964. [2631]
Good green cloth hardcover, binding is very good, ex seminary library with stamps and card pocket yet a clean spine. Fair green printed dust jacket with edge-wear and chipping, now in a clear wrapper. The text is generally clean and unmarked with a few pages having brief marginalia. Good in fair dust-jacket. Hardcover.

"A large-scale work which attempts to reconstitute that whole way of thinking about moral questions which was once the ordinary background of our culture." - publisher.