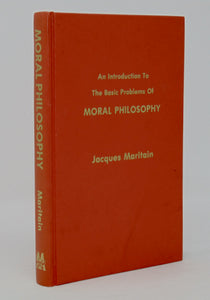 Maritain, Jacques. An Introduction to the Basic Problems of Moral Philosophy. Albany, NY: Magi Books, Inc., 1990. ISBN: 9780873430524. [2604]
Fine in orange hardcover, bright gilt titles, clean and unmarked text. No dj, probably as issued. Fine. Hardcover.

An English translation of Neuf Lecons Sur Les Notions Premieres de la Philosophie Morale, first published in Paris in 1950.