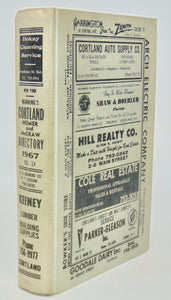 Manning, H. A. Manning's Cortland, Homer and McGraw (New York) Directory 1967. Greenfield, Mass.: H. A. Manning Company, 1967. [9344]
Gray cloth, titles & adverts printed in black, many illustrated adverts, 9 x 6 inches, 519 pp., tight. Includes the map. Very good. Hardcover.

Title continues: Containing Alphabetical Directories of the Citizens, Classified Business Directories, Numerical Street & Phone Directories, Rural Routes, Records of the City and Village Governments, Societies, Churches, Etc., Map, County, State and U. S. Governments. Volume LV.

Manning's Directories provide an informative picture of life as it once was in the United States.