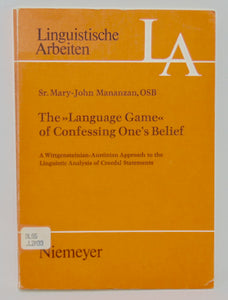 Mananzan, Sister Mary-John, O.S.B. The Language Game of Confessing One's Belief: A Wittgensteinian-Austinian Approach to the Linguistic Analysis of Creedal Statements (Linguistische Arbeiten). Tubingen: Max Niemeyer Verlag, 1974. ISBN: 783484101999. [8168]
Printed orange cloth wrappers, 6 1/2 x 9 1/2 inches, (XII) 176 clean pp. Ex seminary library with standard markups, light bumps to corners. Good. Paperback.

"This study is an attempt to make use of the new philosophical insights in the effort to understand the phenomena of belief, specifically on the Christian belief...The work aims to contribute to this never-ending effort, by taking the newly opened path of linguistic analysis."