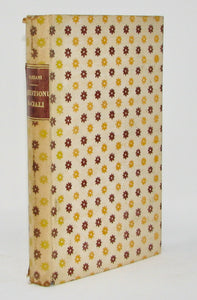 Mamiani, Terenzio. Delle questioni sociali e particolarmente dei proletarj e del capitale Libri tre. Roma: Dell'Opinione, 1882. 1st. [914]
Decorated paper over boards, leather spine title label, a little wear at the spine ends, 20.5 x 14 cm, 407 clean pp., tight. Italian text. Very good. Hardcover.

"On social issues, and particularly the proletarians and capital, in three books." The "three books" contained in this volume are, Del Problema Sovrano, Moralita e Proprieta, & Emancipazione del Quarto Stato.