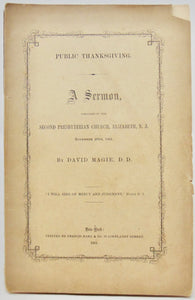 Magie, David. Public Thanksgiving: A Sermon, preached in the Second Presbyterian Church, Elizabeth, N. J., November 28th, 1861. New-York: Printed by Francis Hart & Co., 1861. First Edition. [9363]
Printed wrapper, chipped at one corner, 9 x 6 inches, 23 pp., short tear i nthe top margin throughout, a few corrections in pencil. Paper a bit brittle; fold over spine partially torn. Fair. Pamphlet.

Thoughts and observations on the American Civil War, which had begun on April 12th, 1861. "The treachery of seceding States has bound the United States more closely together. As to the putting down of this rebellion there is no dissent. Southern disruptionists do not find, as they firmly believed they would, sympathizers and abettors at the North." He tells of men God has raised up for the conflict, including Abraham Lincoln, Winfield Scott, Joseph Holt, Dr. Robert Breckinridge, Parson Brownlow, &c. "Shall slavery be abolished throughout the length and breadth of the land, or the government be overthrown? there is, there must be, but one answer. This is right in the sight of both God and man; and here et us stand."

Rev. David Magie (1795-1865), b. & d. in Elizabeth, NJ, the pastor of the Presbyterian church in that city. Dr. Magie graduated at Princeton in 1817 and was tutor in that school 1818-9, and installed as pastor in Elizabeth in 1821. In 1842 he received the degree of D.D. from Amherst, and he was a director for the A. B. C. F. M., the American Tract Society, and Princeton Theological Seminary.