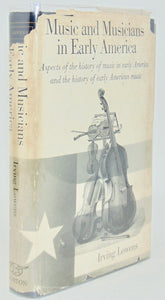 Lowens, Irving. Music and Musicians in Early America. New York: W. W. Norton & Company, Inc., 1964. First Edition. [9063]
Blue cloth, binding very good, edge-tattered dust jacket, now in a clear wrapper. 8 1/2 x 6 inches, 328 clean pp., tight. Very good in fair dust-jacket. Hardcover.

An essential reference for the student of music in early America.
Chapters on the Bay Psalm Book; Tufts's Introduction to the Singing of Psalm-Tunes; Andrew Law; Benjamin Carr's Federal Overture; The Easy Instructor; John Wyeth's Repository of Sacred Music, &c.