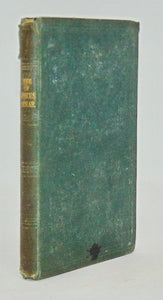 Life of Julius Caesar. London: The Religious Tract Society, (1846). [9245]
Dark green blindstamped cloth, spine ends and corners frayed, 5 3/4 x 3 3/4 inches, all page edges gilt, 192 clean pp.

"The following life of Julius Caesar includes nearly the whole of the first book of the Lives of the Saesars by Suetonius. The authorities for statements not found in Seutonius are Caesar's Commentaries, Dio Cassius, Appian, Cicero's Orations and Letters, Velleius Paterculus, Valerius Maximus, Florus, Lucan, and Plutarch...No Christian will think it unnatural to contrast Caesar with the men who, within a century from his time, carried on a warfare of a far different character, and who founded an empire which will continue forever." - Preface.