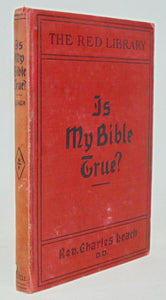 Leach, Chas. Is My Bible True? Where did we get it? Chicago &c.: Fleming H. Revell Company, 1897. [8810]
Red cloth, 7 1/4 x 5 inches, small hole base of spine, binding is worn & scuffed, 119 clean pp., publisher's catalogue. Good. Hardcover.

One of the publisher's "The Red Library" series.
A popular account of how we got the New Testament, the Old Testament, and the English Bible.