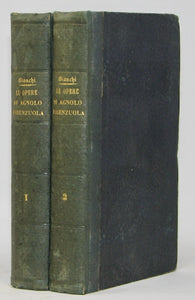 Firenzuola, Agnolo; Bianchi, B. Le Opere di Agnolo Firenzuola, ridotte a miglior lezione e corredate di note da B. Bianchi. Vol. I e II [completo]. Firenze: Felice Le Monnier, 1848. 1st. [991]
Two volume set, green cloth spines with dark blue cloth boards, 17.5 x 12 cm, xxiv., 460; 455, errata page, bindings tight. Very good. Hardcover.

The works of Agnolo Firenzuola (1493-1543), with notes by Brunone Bianche.