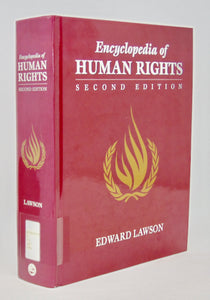 Lawson, Edward. Encyclopedia Of Human Rights. Washington DC: Taylor & Francis, 1996. Second Edition. ISBN: 9781560323624. [8323]
Red, white, & gold hardback, no dj as issued, 9 x 11 inches, xli., 1715 pp., a few library stamps, text is otherwise clean. Ex library from the non-circulating reference section, standard library markups including a white label on the spine. Very good. Hardcover.

"This book defines the concept of human rights in all its diversity: the rights of individuals, peoples and nations; the rights to employment, education, culture and personal development; rights to a peaceful existence and to a clean, healthy environment; rights in the workplace; rights of special groups, such as the handicapped and the homeless; rights in war; and rights on land, sea and air. It also defines basic human needs, the right to assembly, and the right to cultural enjoyment,and analyzes legal decisions and international accords that have made these terms concrete realities. The encyclopaedia analyzes and reproduces the national and international documents and instruments which have affirmed or violated rights. It also includes landmark legal and legislative decisions in the field of human rights. There is also information on more than 130 non-governmental and intergovernmental organizations, such as the UN, the OAS and the Council of Europe.; All entries in this second edition have been updated to reflect current events, including new treaties, covenants and UN reports."