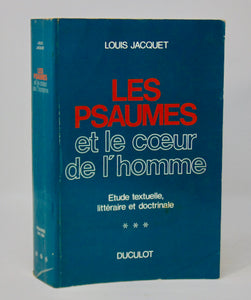 Jacquet, Louis. Les Psaumes et le coeur de l'Homme: Etude textuelle, litteraire et doctrinale (Psaumes 101 a 150). Belgique: Ducolot, 1979. First Edition. ISBN: 9782801102350. [2707]
Large quality softcover, some creasing and wear to the covers, corner creasing to the first few leaves, 6 1/4 x 9 1/2 inches, 815 clean and unmarked pp., green addendum card laid in. Good. Paperback.

French text.
With Nihil Obstat & Imprimatur.