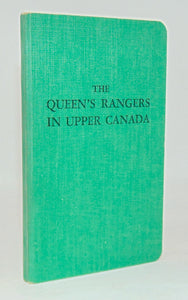 Jackson, Lt.-Col. H. M. The Queen's Rangers in Upper Canada, 1792 and After. Montreal: Printed by Industrial Shops for the Deaf, ca 1950. No date; the history ends about 1947. [8913]
Green cloth, 6 1/2 x 4 inches, b/w photo of the Queens Rangers parading in Revolutionary War period uniforms, taken in 1934. 117 clean pp., tight. Very good. Hardcover.

A thorough account for such a small book, with brief notices of many men and officers, including land grants awarded for service.