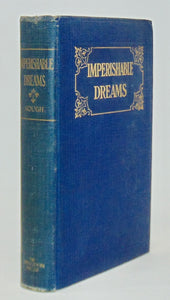 Hough, Lynn Harold. Imperishable Dreams [SIGNED COPY]. New York: The Abingdon Press, 1929. [8960]
Signed by the author on the title page.
Blue cloth, 7 1/2 x 5 1/4 inches, 254 pp., a few pp. with ink notes. Good. Hardcover.

A collection of sermons.
Lynn Harold Hough (1877-1971), b. Cadiz, Ohio; d. Manhattan, NY. Hough was one of the most prominent Methodist ministers and writers during the first half of the 20th century. He was educated at Drew Theological Seminary, and was for some time Dean and Professor of Homiletics at his alma mater. He also taught at the Garrett Biblical Institute, was President of Northwestern University, a preacher at The United Church of Canada, and the author of more than forty books.