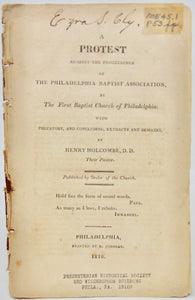 Holcombe, Henry. A Protest against the Proceedings of The Philadelphia Baptist Association, by The First Baptist Church of Philadelphia: with Prefatory, and Concluding, Extracts and Remarks, by Henry Holcome, D. D., Their Pastor. Philadelphia: Published by Order of the Church | Printed by R. Johnsen, 1816. First Edition. [9138]
Removed pamphlet, no wrapper, front detached, 8 1/4 x 5 inches, 20 pp., signed by Ezra S. Ely top front, former Historical Society copy with their name stamp and other markings. Fair. Pamphlet.

Signed top front "Ezra S. Ely." Ezra Stiles Ely (1786-1861), an Old School Presbyterian, pastor of the Old Pine Street Church, Philadelphia and the principal founder of the Jefferson Medical College.

Dr. Holcombe was denied the request to read his protest to the Philadelphia Baptist Association when the Association held their session in his church. He protests the "arbitrary and despotic" nature of the denial and proceeds to delineate the protest in print. The issues treated with are that wolves have crept into the ministry, the doctrines of grace are seldom heard, "conformity to the world is almost complete", the doors to the communion table are wide open with no restrictions, discipline is extremely lax, and "the standard of morals is reduced to invisibility!"

Henry Holcombe (1762-1824), b. Prince Edward Co., VA; d. Philadelphia, PA. He moved with his father, when a child, to South Carolina. He was a captain of cavalry during the Revolutionary War, and at the age of twenty-two, when in command of his company, he was converted to God. "He began at once to proclaim the unsearchable riches of Christ, making his first address on horseback, at the head of his command. He soon became distinguished as a preacher, and met with extraordinary success in his work. He was pastor of the Baptist church in Beaufort and other places in South Carolina until 1799, when he was invited to Savannah as 'supply' to what in now known as the Independent Presbyterian Church of that city, which then occupied the Baptist house of worship, having leased it for a number of years. In November of 1800 he, along with his wife and ten others, united in organizing and constituting the First Baptist church of Savannah, which still exists. He became the pastor, soon gathered a large congregation, to which he ministered until 1811, when he accepted a call to Philadelphia. As pastor of the First Baptist church he preached in Philadelphia until his death, in 1824...Dr. Holcombe never took part in politics, but when quite a young man he was a member of the convention in South Carolina which ratified and adopted the Constitution of the United States." - Cathcart, The Baptist Encyclopedia (1881). Holcombe's many accomplishments were remarkable (only a few are listed here). He received the degree of D. D. from Brown in 1810.