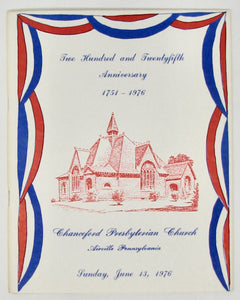 History of the Chanceford Presbyterian Church; Compiled for the Two Hundred Twenty-Fifth Celebration. Airville, PA: Chanceford Presbyterian Church, 1976. First Edition. [7214]
Card wrappers printed in red, white, & blue, illustration of church on front, American & British flags on back, 6 3/4 x 8 1/2 inches, 28 pp., illustrated. Very good. Paperback.

A history of the church from 1751 to 1976. This is one of the oldest Presbyterian churches in the "Barrens" area of York County, Pennsylvania. Includes brief biographical notices of their ministers through the years.