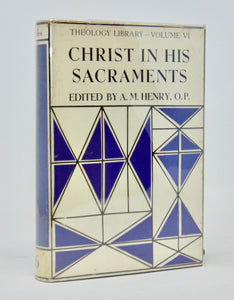 Henry, A. M. [editor]; Bouchard, Angeline [translator]. Christ in His Sacraments (Theology Library - Volume VI). Chicago: Fides Publishers Association, 1958. [2307]
Fine blue cloth hardcover with bright gilt spine titles, 466 clean and unmarked pp. Good + dust jacket with minor edge-wear, small chip top edge rear, a little spotting due to age. Dj now in a clear protective wrapper. Fine in good dust-jacket. Hardcover.

"The world of signs has all the fullness of a whole life - a theandric life - which 'signifies.' Among these signs, certain ones have particular importance, through the will of Christ who instituted them. First among these are Baptism and the Eucharist, the sacraments of the Pasch, the sacraments of Christian initiation, of the redeemed people, of the Church. Baptism and the Eucharist sum up the whole mystery of Christ, our whole liturgy, all our feasts, our entire worship, our whole Christian life, and all our hopes. They are the cornerstone and the crowning of the whole sacramental structure." - Introduction.