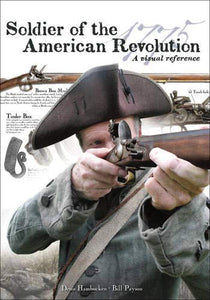 Hambucken, Denis; Payson, Bill. Soldier of the American Revolution: A Visual Reference. Countryman Press, 2011. ISBN: 9780881509588.
7 x 10 inches, 64 pp. New. Paperback.  [5124] 
The life of the average soldier at the onset of the American Revolution in words and photographs.

In 1775, at the beginning of the American War of Independence, the men who stood up to the British Regulars were men and boys, farmers, laborers, and artisans. Most procured their own weapons and fought without pay against overwhelming odds. This book offers modern readers a colorful glimpse into the day-to-day conditions of an average soldier through photographs of actual artifacts and exacting, historically accurate reproductions of soldiers clothing, supplies, and equipment.

While other books examine the American Revolution from a political, military, or tactical perspective, this book focuses on day-to-day life and the human experience of the Revolutionary War soldier, the everyman who fought and won freedom for us all. 30+ full-color photographs