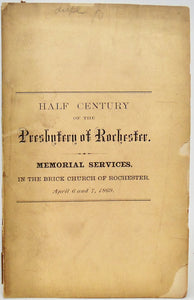 Bush, Charles P. Memorial Services: Half Century Celebration of the Presbytery of Rochester, Held in that City April 6th and 7th, 1869. Rochester, N. Y. : Book and Job Office of Tracy & Rew, 1869. First Edition. [9128]
Printed wrappers, wrappers with edge chips & soil, 9 x 6 3/4 inches, 82 pp. Good. Paperback.

Pp. 65-77 focus on revivals, with accounts of C. G. Finney and Jedidiah Burchard.
Includes brief histories of the congregations, bios of the ministers, and a statistical chart of ministers identifying from whence they came, where they served, and where they went.

Statistics, by Louis Chapin, Esq.; Poem, by Rev. Charles E. Furman; Historical Discourse, by Charles P. Bush, D. D.