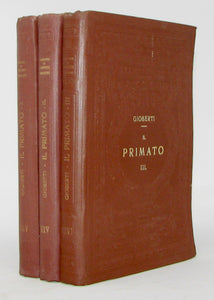 Gioberti, Vicenzo. Del Primato Morale e Civile degli Italiani. Vols. I-III. Torino: UTET, 1920. [1045]
Three volumes in brown publisher's cloth over card boards, 18 x 12 cm; lxviii., 262, 275, 288 clean pp., publisher's catalogues at the back of each volume. Good. Hardcover.

Introduzione e Note di Gustavo Balsamo-Crivelli. Part of the "Collezione di Classici Italiani con Note" series.

Vincenzo Gioberti (1801-52), "Turinese philosopher, priest, and politician. His republican sympathies brought him into conflict wit hthe Piedmontese authorities; he was imprisoned, erroneously suspected of being a member of Mazzini's Giovine Italia, and exiled (1833). He settled in Brussles (1834-45), where he published his influential Del primato morale e civile degli italiana (18443) proposing that Italy's future lay in a neo-Guelf federation of states under the presidency of the papacy and backed by the military power of Piedmont. At the basis of his thought was a distinctive reformism which identified religion with civilization, and saw the Church as the custodian of Italy's moral and social values." - The Oxford Companion to Italian Literature.