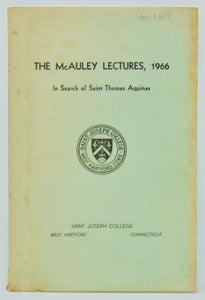 Pegis, Anton C.; Gilson, Etienne. The McAuley Lectures, 1966: In Search of St. Thomas Aquinas. West Hartford, CT: Saint Joseph College, 1966. First Edition. [2807)
Green printed wrapper, 6 x 9 inches, 47 clean pp. Very good. Paperback.

The first two papers are by Pegis: 1. Catholic Intellectualism at the Crossroad; and 2. Thomism 1966.
Gilson's paper is On the Art of Misunderstanding Thomism.