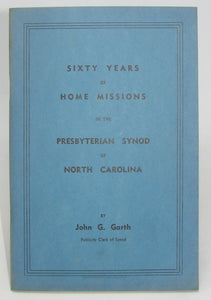 Garth, John G. Sixty Years of Home Missions in the Presbyterian Synod of North Carolina. NP: The Synod, 1948. 1st. [1192]
Stapled booklet, 6 x 9, 86 pp., illustrated, very good. Very good. Paperback.

Dedicated to Rev. Ernest Eugene Gillespie, D.D., with a brief biography of Dr. Gillespie.
Evangelistic work and church planting in North Carolina.