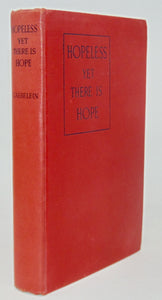 Gaebelein, Arno Clemens. Hopeless - Yet There Is Hope: A Study in World Conditions and their Solution. New York: Publication Office "Our Hope", 1936. Second Printing. [9030]
Red cloth, 8 1/4 x 5 1/2 inches, 193 clean pp., tight. Very good. Hardcover.

Prophetic teaching of the dispensational kind.

Arno Clemens Gaebelein, D.D., (1861-1945), US Methodist; Bible teacher; conference speaker; helped develop the dispensationalist fundamentalist movement; worked on prophecy and Israel; edited Our Hope.