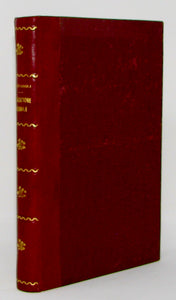 Fraccaroli, Giuseppe. L'Educazione Nazionale. Bologna: Zanichelli, 1918. 1st. [861]
Red leather spine with gilt rules and title, maroon cloth boards, 6 x 8 3/4 inches, 302 clean pp., tight. Text in Italian. Very good. Hardcover.

"Questo libro, che ho preso a scrivere non appena lat guerra ebbe principio, fu per qualche temps intenzione mia di non pubblicarlo he a guerra finita. Un po' ero persuaso, come tutti, che la violenza dei fatti, ponderavano state di subito travolti, non lasciasse agio alcuno di badare alla virtu delle parole; e un po', come sussede, me sentivo cullato anch'io e trascinato dall' illusione di coloro, i quali nella bellezza dei propositi, che vanno accarezzando per un ipotetico e pacifico futuro, confortano e coonestano nel reale e terribile presente la loro inerte e tranquilla aspettazione." - A Chi Leggera.

Giuseppe Fraccaroli (1849-1918), Italian classical philologist and educator.