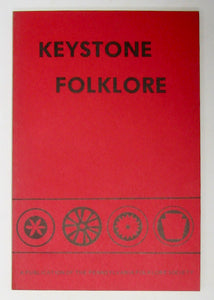 Moloney, Michael; Powers, William K.; Hunter, William A. [FOLK MUSIC] Keystone Folklore, Vol. XX., Winter-Spring 1975; The Journal of the Pennsylvania Folklore Society. Philadelphia: Pennsylvania Folklore Society, 1975. First Edition.[6349]
Red printed wrapper, 6 x 9 inches, 93 clean pp., near fine. Very good. Paperback.

The main presentations in this issue are

Medicine for Life: A Study of a Folk Composer and His Music, by Michael Maloney. A study of the Irish folk music of Ed Reaver, b. 1897 in Co. Cavan, Ireland; came with his parents to Philadelphia in 1912, and became a well-known musician in that city.

A Study of Native American Music, by William K. Powers. An introduction to the topic with an annotated bibliography.

Collectanea: Verses from a Colonial Orderly Book, by William A. Hunter. An account of Captain Thomas Hamilton's orderly book of 1759. Hamilton was from York County, PA, and the study is of ten songs written in his manuscript orderly book.