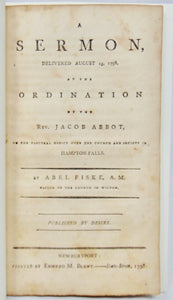 Fiske, Abel. A Sermon, delivered August 15, 1798, at the Ordination of the Rev. Jacob Abbot, to the pastoral office over the Church and Society in Hampton-Falls. Newburyport, [MA]: Edward M. Blunt, 1798. First Edition. [3104]

Removed, new sewn acid-free wrapper, 8 x 5 1/2 inches, 28 pp. Very good. Pamphlet.  
Evans 33737.
The text is I Peter iv. 11: "If any man speak, let him speak as the oracles of God."
"In the following discourse, some notice will be taken of the superior excellence of the oracles of God above all other writings; of the duty of ministers in their preaching to adhere to the principles and instructions of divine revelation; of the motives which should influence them to fidelity, and of the unreasonableness of finding fault with preachers, when they speak as the oracles of God."

Rev. Abel Fiske (1752-1802), b. Pepperell, MA; d. Wilton, NH. Rev. Fiske graduated Harvard College in 1774, and was ordained at Wilton in 1778. He served as pastor of the congregation until his death at the age of 50. 224 persons were added to the church during his ministry, and 745 persons were baptized.