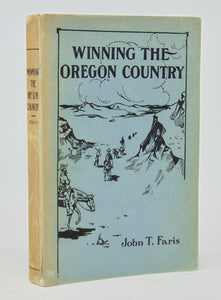 Faris, John T. Winning the Oregon Territory. New York: Missionary Education Movement of the United States and Canada, 1912. [7508]
Printed blue wrapper, spine fade to brown with a little loss at the ends, 5 x 7 1/2 inches, x., 241 clean pp., illustrated. Light crease to front, "editorial use only" stamp on ffep, front of the wrapper weak at the hinge. Good. Paperback.

The folding map is of the United States, with Boundary, Routes and Mission Stations of the Oregon Country delineated. This includes Boundary of Original Oregon Country; Route of Lewis and Clarke westward; Route of Jason Lee westward; Route of Whitman's Ride eastward; and Mission Stations.

"It is my privilege to tell you of men and women whose lives were filled with events as thrilling as any of those told of those who have gone to China or India or Africa or the islands of the sea. These events took place right here in our own continent. And the heroes were men and women who have a right to be named as pioneers with Daniel Boone and Kit Carson, or as patriots with Paul Revere and General Putnam. I believe you will agree with me when you read of the three-thousand-mile bridal tour across the plains and among hostile Indians; of the narrow escapes in the mountains and on the rivers; of the adventures with the Indians whom these men and women went to teach; of the four-thousand-mile ride from Oregon to Washington City, against time, in the dead of winter; of what Whitman and Lee did for their country; of that day of terror when frenzied Indians slew their best friends, and the results of the work done by the martyrs who died at the post of duty."