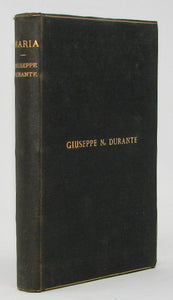 Durante, Giuseppe. Maria (5 Marzo - 15 Maggio, 1905). Roma: Alighieri, 1905. 1st. [1020]
Blue cloth over thin boards, gilt rule around edges, author's name in gilt on the front cover, title and author's name in gilt on the spine. Marbled end papers, 18.5 x 13 cm, 265 (6) pp. Last leaf with light stain. Very good. Hardcover.

Italian text. Scarce:
OCLC 13871988, with one record. We believe this to be a book of poetry about the death of an infant, Maria.
Chapters: Rimembranze; Prima giovinezza; Sospiri e palpiti; Lontano; Ritorno; Il canto de l'usignolo; Ultimo canto.

Giuseppe Nicola Durante (1886- 1912), who from a young age showed precocity in reading in composing poems; he was educated at the college in Assisi. In 1905, at the age of 17, he emigrated to the United States, passing through Ellis Island, and settling in Schenectady, NY, where he earned his BA in Arts. He started teaching to the numerous Italian immigrants in the area. His health failed quickly, likely by contracting an infectious disease in the slums where his students lived. "He wrote several books and one, in particular, entitled "Maria" was also published in Italy." - Geremia Mancini, Giuseppe Nicola Durante poeta, scrittore ed insegnante molisano.