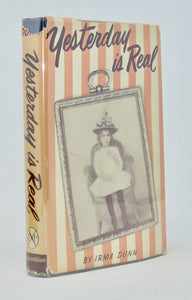 Dunn, Irma. Yesterday Is Real. New York: Exposition Press, 1953. First Edition. [7484]
Blue cloth with bright gilt title to spine, 5 1/2 x 8 1/4 inches, map end papers, 223 clean pp. Dust jacket is edge-worn, large chip top of spine panel, now in a clear wrapper. Very good in fair dust-jacket. Hardcover.

"Like Edgar Lee Masters' Spoon River Anthology or Sherwood Anderson's Winesburg, Ohio, this unique novel of life in a small community lifts the veil from the face of a 'dormant' village to reveal the complex joys and stark tragedy that eternally walk together in the rural places where 'nothing ever happens.' Avoiding the somber tone of those earlier studies in Americana, however, Irma Dunn gives us a gay and nostalgic backward glance at those wonderful turn-of-the-century days, when small-town living was the rule and people led unruffled, pleasant lives. Densville, with its neighborliness, good humor, and quaint appearance, might have been any small community in America. But so deep is the author's love and understanding of its people and their ways that, under her skillful pen, the town takes on a vivid, highly personalized character of its own." - publisher.

Irma L. Dunn (1900-1981), b. near Southern Pines, North Carolina; d. Fredericksburg, Virginia. Educated at SUNY Oneonta and Columbia University, she grew up in a small rural town similar to the one portrayed here in her first novel. Although presented as fiction, it reads very much like the real memories of a girl growing up in a small town.