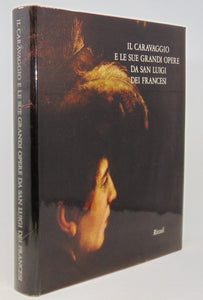 Dell'Acqua, Gian Alberto. Il Caravaggio e Le Sue Grandi Opere da San Luigi Dei Francesi; Testo di Gian Alberto Dell'Acqua con un'appendice di Mia Cinotti. Milano: Rizzoli, 1971. [8614]
Maroon cloth with dust jacket & slipcase, 35 cm (16 x 14 inches), 211 text pp., 138 tipped-in color & b/w plates, 50 full-page or folded color plates, over 500 b/w illustrations. Book is clean and fine. Slipcase has fraying/split to one corner. The lighter shade at the bottom of the photo is due to flash reflection. Fine in fine dust-jacket. Hardcover.

Italian text. A gorgeous production.