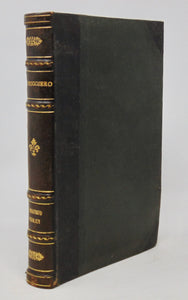 De Ruggiero, Ettore. L'Arbitrato Pubblico in relazione col privato Presso I Romani: Studio di Epigrafia Giuridica. Roma: L. Pasqualucci, 1893. [8036]
Half black leather with raised bands and gilt decoration, dark green cloth boards, 6 3/4 x 9 1/2 inches, viii., 395 pp., light foxing, tight. Very good. Hardcover.

La prima edizione scarsa.