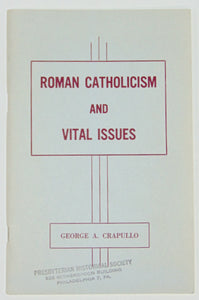 Crapullo, George A. Roman Catholicism and Vital Issues. Flushing, NY: The author, 1950. Second Edition. [2448]
5 x 7 3/4 inches, card wrappers, 63 clean pp., historical society stamp on front.  Very good. Paperback.

Anti-Catholic. Treats of the True Church, the Public School, the Separation of Church and State, Mixed Marriages, Religious Liberty, and Censorship.

Rev. George A. Crapullo, b. Manhattan; d. Brooklyn (1952), from 1929 until his death at the age of 61 he was the pastor of the Irving Square Presbyterian Church in Brooklyn. He earned the B. D. degree from Auburn Theological Seminary and the Yale Divinity School. Something of a public crusader, he organized against Tammany Hall, joined in Pro-Protestant and Anti-Catholic organizations, and cooperated with the Police Department in organizing a Council for his local precinct. He was also a member of the National Advisory Council of Protestants and Others United for the Separation of Church and State.