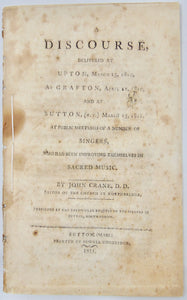 Crane, John. A Discourse, delivered at Upton, March 15, 1810, at Grafton, April 12, 1810, and at Sutton, (N. P.) March 13, 1811. At Public Meetings of a Number of Singers, who had been improving themselves in Sacred Music; Published at the Particular Request of the Singers in Sutton, North-Parish. Sutton, (Mass.): Printed by Sewall Goodridge, 1811. First Edition. [8977]
Removed, no wrapper, recent stab-sewn string re-enforcement at fold. 8 1/2 x 5 inches, small hole in first two leaves affecting some letters, 16 pp. Printed in old font with the long "s". Good. Pamphlet.

A discourse on James 5:13, "Is any merry? let him sing psalms." The author does not seem to us to be limiting the definition of "psalms" to the Psalms in the Bible, but includes Christian hymns as well. He speaks to the singers of their duties and dangers based upon Biblical examples and exhortations.

John Crane, D.D. (1756 -1836), b. Norton, MA. Crane graduated at Harvard College in 1780, and in 1782 began preaching at Northbridge, Mass., remaining there as pastor until his death in 1836.

With a signed provenance card from the collection of A. Merril Smoak, Jr., DWS.