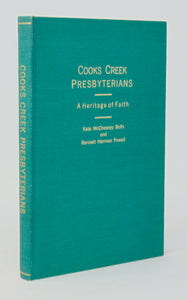 Bolls, Kate McChesney; Powell, Bennett Harman. Cooks Creek Presbyterians: A Heritage of Faith; Founded: 1739; Organized: 1742. Harrisonburg, Virginia: Park View Press, 1965. [7747]
Green cloth with gilt titles, xi., 132 clean pp., tight. Illustrated. No dj, as issued. Light shelf-wear to edges. Very good. Hardcover.

A history of the church; sketches of the pastors, elders, deacons and trustees; descriptions of the four meeting houses; &c. Much of the history comes from articles written by a former pastor and published in the local paper in the 1890's.