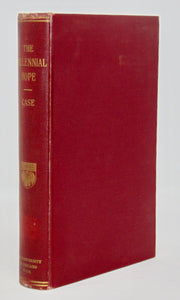 Case, Shirley Jackson. The Millennial Hope: A Phase of War-Time Thinking. Chicago: The University of Chicago Press, 1918. [7853]
Red cloth, 5 1/2 x 7 3/4 inches, ix., 253 clean pp., index, tight. Faint outline from sometime removed spine label, does not appear to be ex library. Very good. Hardcover.

No. C1501 in Starr's A Baptist Bibliography.
Shirley Jackson Case (1872-1947), b. Hatfield Point, New Brunswick; d. Lakeland, Florida. Case was educated at Acadia University, Yale University, and taught New Testament and Early Church History at the University of Chicago. A self-described liberal theologian, he rejected the supernatural aspect of Christian belief.

The chapters are: Gentile Hopes, Hebrew and Jewish Hopes, Early Christian Hopes, Later Christian Hopes, Modern Estimate of Millennial Hopes.