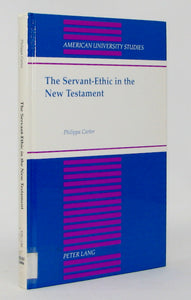 Carter, Philippa. The Servant-Ethic in the New Testament (American University Studies). New York: Peter Lang, 1997. ISBN: 9780820433936. [7228]
Former library copy with standard markups, but otherwise appears unused and "as new" with a clean text and fine binding. Very good. Hardcover.

"The term 'servant-ethic' refers to the ethical ideal of self-subordination and 'other-directedness' that persists throughout the collection of early Christian writings known as the New Testament. Despite their various beliefs concerning matters theological, each contributor to the NT recommends that his or her readers understand themselves as servants of others and consistently place their own interests last. This ethical ideal represents a common characteristic of the NT documents, despite the acknowledged variety of views on other matters."