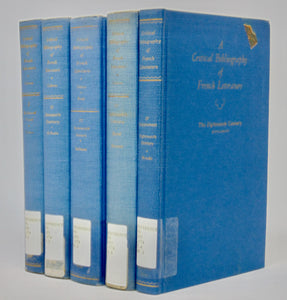 Cabeen, D. C. [General Editor]. A Critical Bibliography of French Literature (5 volume set). Syracuse, New York: Syracuse University Press, 1952-1968. Enlarged Edition. [8197]
5 volumes in blue cloth, bindings sturdy and undamaged, some old cello tape remnants that once held book covers in place. Texts are clean, books are tight. Ex academic library from the non-circulating reference section, standard library markings and labels. Good. Hardcover.

Volume I. - The Mediaeval Period. Edited by Urban T. Holmes, Jr.
Volume II. - The Sixteenth Century. Edited by Alexander H. Schutz.
Volume III. - The Seventeenth Century. Edited by Nathan Edelman.
Volume IV. - The Eighteenth Century. Edited by George R. Havens & Donald F. Bond.
Volume IV. Part II. - Supplement: The Eighteenth Century. Edited by Richard A. Brooks.