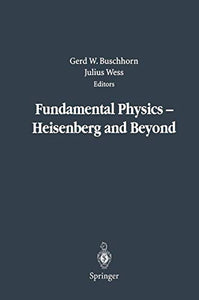 Buschhorn, Gerd W.; Wess, Julius. Fundamental Physics - Heisenberg and Beyond. Springer, 2004. ISBN: 3540202013.
172 pp., blue cloth. New. Hardcover.  [4703] 
Presents two essays commemorating Werner Heisenberg's 100th birthday, which are complemented by a short and nicely illustrated biographical note in the appendix.

In the second part, the reader will find a spectrum of articles devoted to important developments in central areas of research by authors are outstanding scientists.

Contributions on modern developments by eminent physicists such as Anton Zeilinger, Julius Weiss, Elliott Lieb, Michael Peskin, Jürg Frölich, Alan Watson, and others.