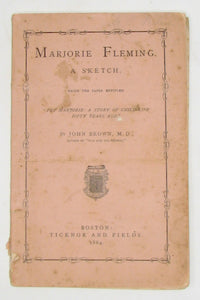 Brown, John. Marjorie Fleming: A Sketch, being the Paper entitled "Pet Marjorie: A Story of Child-Life Fifty Years Ago.". Boston: Ticknor and Fields, 1864. [7150]
Pink printed wrappers, soiled & spotted, about one inch paper loss at the bottom of the spine fold. 4 1/2 x 7 inches, 47 clean pp., rear of wrapper chipped at bottom corner. Good. Pamphlet.

Reprinted from the North British Review with the author's complaint that his original "Sketch" had been reprinted and altered without his permission, and that this new issue does the justice deserved to the subject, Marjorie Fleming.

Marjorie Fleming (1803-1811), "a Scottish child writer and poet. She gained appreciation from Robert Louis Stevenson, Leslie Stephen, and possibly Sir Walter Scott...best remembered for a diary that she kept for the last 18 months of her life...The rumour that Marjorie's poems were admired by Sir Walter Scott derives from an 1863 article by Dr. John Brown, M.D., of Edinburgh. He acknowledged a debt to Marjorie's younger sister Elizabeth Fleming (1809-1881) for the loan of the letters and journals...The direct, albeit sole evidence of Scott's interest appears in a long letter from Elizabeth to Brown. The life and writings of Marjorie Fleming became hugely popular in the Victorian period, although the versions were severely truncated and re-worked, as some of her language was thought inappropriate for an eight-year-old to use." - wikipedia.

John Brown, M.D. (1810-1882), Scottish medical doctor and author, perhaps best known for his dog story Rab and His Friends.