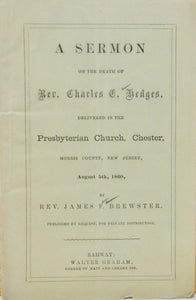 Brewster, James F. A Sermon on the Death of Rev. Charles E. Hedges, delivered in the Presbyterian Church, Chester, Morris County, New Jersey, August 5th, 1860; Published by Request, for Private Distribution. Rahway: Walter Graham, (1860).[8749]
First Edition. Light green printed wrappers, 6 1/4 x 4 inches, center crease, 22 pp., foxing. Good. Pamphlet.

Rev. Charles Evert Hedges (1836-1860), educated in part at Princeton Seminary, and licencsed to preach by the Presbytery of Passaic. Poor health cut short his ministry at Croton Falls, New York, and he sailed for California to recover his health; he died near Sacramento. This sermon gives an account of his life and ministry, his desire to become a missionary to Brazil, and relates many words that he spoke with his companions.