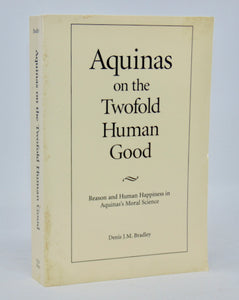 Bradley, Denis J. M. Aquinas on the Twofold Human Good: Reason and Human Happiness in Aquinas's Moral Science. Washington DC: The Catholic University of America Press, 1997. First Edition. ISBN: 9780813209524. [2316]
6 x 9 inch paperback, a little discoloration to binding from age (white wrappers), 610 clean and unmarked pages, binding tight. Good. Paperback.

"Bradley's contribution to the study of Aquinas is important. From the standpoint of a historian, his main achievement is to clarify the 'dialogue' between Aquinas and Aristotle. This fulfills a long-time desideratum: the subject has been treated by many scholars . . . but Bradley is the first who has studied virtually all relevant texts in detail, with convincing results. He establishes a new status quaestionis from which all further research must start." Prof. Wolfgang Kluxen, University of Bonn.