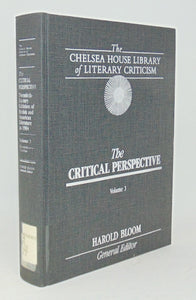 Bloom, Harold [editor]. The Critical Perspective: Elizabethan-Caroline (Chelsea House Library of Literary Criticism, vol. 3). New York: Chelsea House Publishers, 1986. ISBN: 9780877547921. [8270]
Gray cloth with silver titles, 8 3/4 x 11 1/4 inches, ex library from the non-circulating reference section, has standard library markups. Front end papers creased in the margins, binding tight, text is clean apart from library stamps. Good. Hardcover.

This volume begins with Beaumont and Fletcher, includes Sir Walter Raleigh, Sir Francis Bacon, John Donne, Ben Johnson, Abraham Cowley, John Milton, Thomas Hobbes, and their contemporaries.