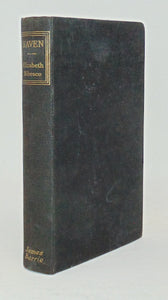 Bibesco, Elizabeth; Bowen, Elizabeth [Foreword]. Haven: Short Stories Poems and Aphorisms. London: James Barrie, 1951. First Edition. [4813]
Black cloth, light scuffing, 5 x 7 1/2 inches, 1952 owner's signature on front pastedown, 382 clean and unmarked pp., no dust jacket. Very good. Hardcover.

Elizabeth Lucy, Princess Bibesco (1897-1945), "English writer and socialite. She was the daughter of a British Prime Minister [H. H. Asquith] and the wife of a Romanian prince. Active as a writer between 1921 and 1940, she drew on her experience in British high society in her work. A final posthumous collection of her stories, poems and aphorisms was published under the title Haven in 1951, with a preface by Elizabeth Bowen." - wikipedia.