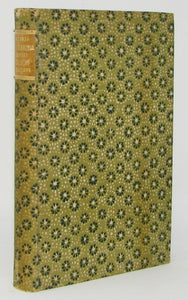 Beccaria, Cesare. Della Commedia presso I Greci, I Latini, e Gl'Italiani; Studii di Cesare Beccaria. Torino: Loescher, 1874. 1st. [884]
Green, white and blue patterned paper over boards, tan leather spine label, 19.5 x 13.5 cm, 352 clean pp., errata slip tipped in at back, tight. Very good. Hardcover.

An historical study of literary comedy amongst the Greeks, the Latins, and the Italians.

Cesare Beccaria (1738-1794), Milanese philosopher and reformer. "Beccaria achieved international fame with his work on penal reform Dei delitti e delle pene (1764). He also wrote on economics Elementi di economia pubblica (1804) and aesthetics Ricerche intorno all natura dello stile (1770). From 1771 he served as state officer in the Milanese administration." - The Oxford Companion to Italian Literature.