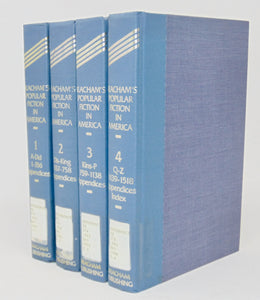 Beacham, Walton. Beacham's Popular Fiction in America (4 volume set). Beacham Publishing, 1986. First Edition, First Printing. ISBN: 9780933833104. [8186]
Four volumes in blue cloth, bindings fine, text pages clean, ex academic library from the reference section. Has statndard library matter including white spine labels and ink stamps & call numbers on the title pages. Very good. Hardcover.

"Our underlying thesis is that fiction which becomes enormously popular contains elements which touch on deep-rooted social attitudes, concerns, fears, or desires...Each of these articles attempts to illustrate how the writer was perceived by the critics, the extent of his popular acceptance, and the elements which caused his books to become best sellers. By understanding the undercurrents behind the plot, it is possible to see how popular fiction measures societal needs." - Preface.